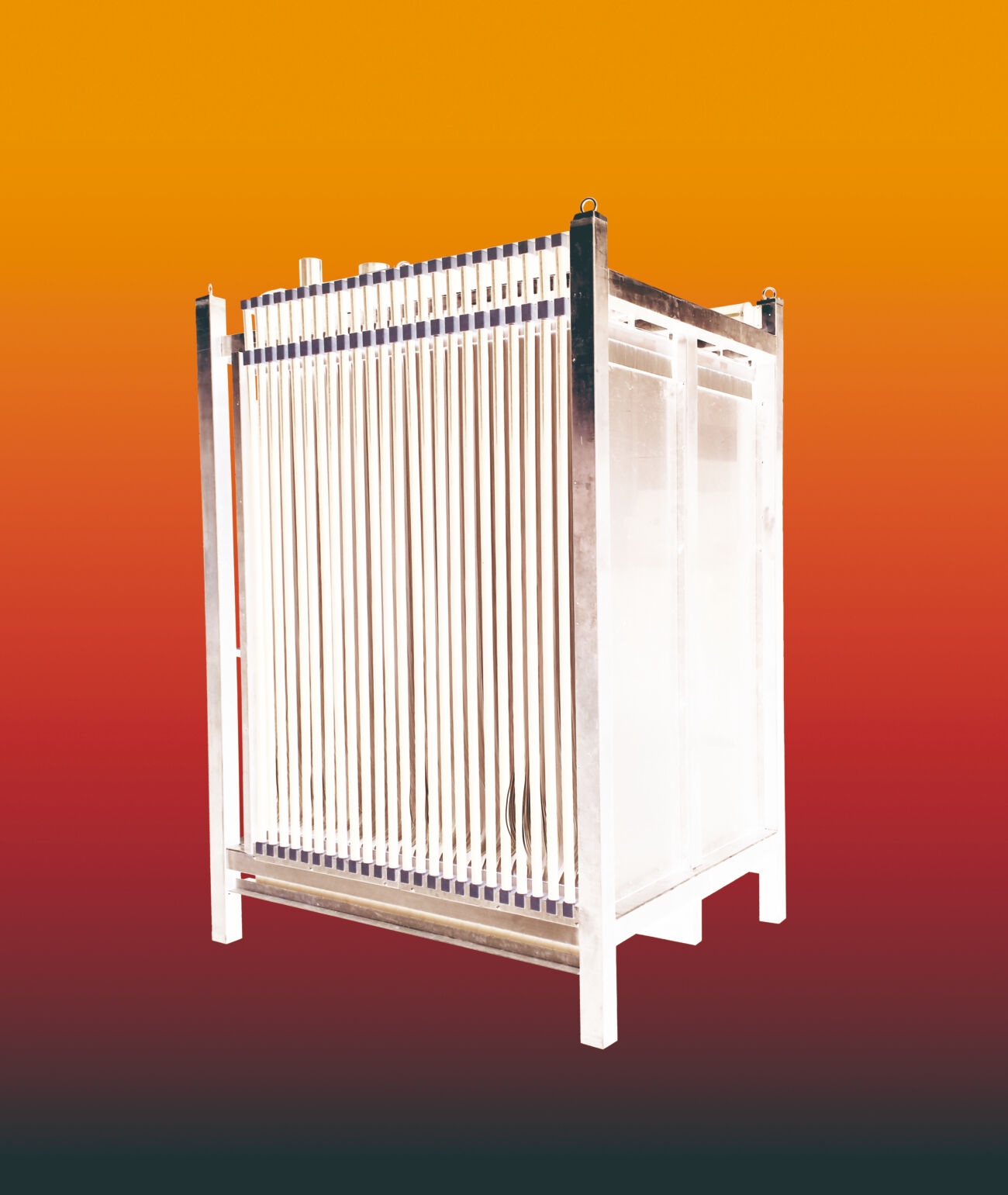 Hollow Fibre (HF)
MBR membrane configuration |
Polymeric
membrane material
Module product series:
Cassette type: SPMW-11B38, 12B38 SPMW-11B57, 12B57
Square type: SPMW-11B6, 12B6 SPMW-11B12, 12B12
About POREFLON™ module
Made from PTFE characterized by superb chemical-, heat-resistance, and durability, POREFLONTM module is derived from a porous separation membrane that was developed using proprietary processing technologies. Specifically, POREFLONTM module can be used for various water treatment applications due to its high strength, washability (using various chemicals), easy handling (hydrophilic treatment), high water permeability, etc.
POREFLONTM has the following four principal features:
PTFE offers excellent chemical resistance. POREFLONTM is chemically stable and does not degrade when exposed to virtually all chemicals.
POREFLONTM is extremely tough and thus has a long service life.
POREFLONTM is highly permeable to water thanks to its high porosity. The Illustration of POREFLONTM shows the microscopic structure of our POREFLONTM products. The white area is made of PTFE fibers. The black parts represent voids, or pores. The ratio of pore spaces to the total volume is referred to as the porosity. Without strength limitations and other restrictions, the porosity of POREFLONTM can be increased up to around 90%. A higher porosity implies less resistance to the passage of water and translates into higher water permeability.
POREFLONTM has a high resistance to heat. This is also another of the excellent features of PTFE, the material used for POREFLONTM. In membrane filtration applications, POREFLONTM membrane modules will function up to 200ºC.
Hollow Fibre (HF)
MBR membrane configuration
Polymeric
membrane material | 100% polytetrafluoroethylene (PTFE)
Pore size:
0.05, 0.08, 0.1 µm
Module product series:
Cassette type: SPMW-11B38, 12B38 SPMW-11B57, 12B57
Square type: SPMW-11B6, 12B6 SPMW-11B12, 12B12
Company summary
Head office in
Osaka, Japan
Operates in
Americas, Asia, Europe, Middle East and Oceania

About this page
This page was last updated on 16 December 2022
Disclaimer
Information on this page may have been supplied by third parties. You are reminded to contact any third parties to confirm information is accurate, up to date and complete before acting upon it. TheMBRSite.com accepts no liability for information provided by third parties, actions taken on the basis of this information or information held on third-party websites.