The Top 20 Largest MBRs in the World?

1. Introduction
In October 2009, I was the grateful and enthusiastic recipient of a list of what was thought to be the 20 largest MBRs in the world at that time. The peak daily flow capacities on that list ranged from 30 to 100 MLD, with the total capacity being just over 1,000 MLD. 16 of the top 20 installations were fitted with GE's Zeeweed technology, though the largest − Origin Water's Wenyu river plant in Beijing, commissioned in late 2007 − was based on Asahi Kasei membranes.
Fast forward to the future − to April 2012 − and it appears the list will have changed somewhat. GE still dominates, occupying 12 of the places on the list. It is anticipated there will be nine MBRs of 100 MLD or more peak daily flow capacity by April 2012, compared with just the one in October 2009, and the total peak capacity provided by the listed plants is around 1,900 MLD.
2. Bigger and bigger…
It's obviously not the first time it's been observed that MBR plants are increasing in size, but the speed with which it is happening is perhaps surprising. However, the requirements of individual countries, and China in particular, are becoming ever more pressing given the increasing scarcity of freshwater and the stringency of the environmental legislation promulgated to tackle this.

Whilst GE still provide ~60% of both the number of plants and installed peak daily flow capacity, it is notable that there are seven other membrane product providers contributing the remaining eight plants on the list. Of these seven suppliers, two are from outside South-East/East Asia. There are also plans for future large MBR plants employing other MBR membrane products, with contracts secured for plants >10 MLD in capacity for installations based on MICRODYN-NADIR (at Ji'An in Jiangxu) and elsewhere for air-lift Norit tubular membranes.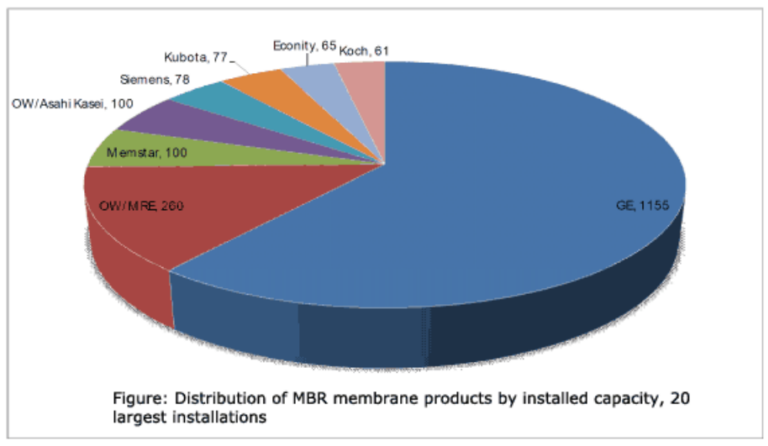 A 30-MLD industrial effluent plant based on Motimo membranes was installed in Tianjin in 2007, and the 57-MLD Toray plant at Yas Island in the UAE is nearing completion (with a larger plant planned for Najran, KSA). There will therefore be at least 12 MBR membrane product suppliers with one or more large flagship MBR plants operating within the next two to three years, eight of them being from South-East/East Asia.
3. Future trends
In any event, the trend in large plants is likely to continue, with more >100 MLD PDF capacity MBR plants already planned. The GE US plants at Frederick County (132 MLD PDF) and Cox Creek (114 MLD PDF) are due to be commissioned in 2013 and 2015 respectively, the contracts for the Riverside and Visalia plants in California, peaking at 182 and 167 MLD respectively, having recently been awarded to the same company.
There will doubtless be further large Origin Water installations in China, where five of the listed plants are based, compared with six in North America. In the four years between 2006 to end 2009, at least 20 MBR plants of >10 MLD peak capacity were installed in China, providing a total installed capacity of 760 MLD. Moreover, five of these plants (78 MLD installed capacity in total) are dedicated to petrochemical effluent treatment − which perhaps reflects the scale of industrial activity in China and the associated pollution abatement challenge the country faces.
It is sobering to think that it was only a decade-or-so ago that the Kubota plant at Swanage in the UK was still heralded as the largest in the world − at just under 13 MLD peak flow. There is only a passage of eight years between the commissioning of the Swanage plant and that of the 100 MLD Wenyu river plant.
4. Largest 20 MBRs?
Table 1. Are these the 20 largest MBRs in the world?
Installation
Supplier
Date
PDF
ADF

PDF: Peak daily flow
ADF: Average daily flow, Megalitres per day
OW: Beijing Origin Water
MRC: Mitsubishi Rayon Corporation

Brightwater, WA
GE
2011
170
117
Qinghe, China
OW/MRC
2011
150
150
North Las Vegas, NV
GE
2011
133
95
Yellow River, GA
GE
2011
111
69
Shiyan Shendinghe, China
OW/MRC
2009
110
110
Aquaviva, Cannes, France
GE
2012
106
59
Busan City, Korea
GE
2012
100
100
Guangzhou, China
Memstar
2010
100
−
Wenyuhe, Beijing, China
OW/Asahi Kasei
2007
100
100
John's Creek, GA
GE
2009
94
42
Awaza, Turkmenistan
GE
2011
87
69
Jordan Basin WRF, UT
GE
2012
79
53
Beixiaohe, China
Siemens
2008
78
−
Al Ansab, Muscat, Oman
Kubota
2010
77
55
Cleveland Bay, Australia
GE
2009
75
29
Broad Run WRF, VA
GE
2008
71
38
Christies Beach, Australia
GE
2011
68
27
Gongchon, Korea
Econity
2012
65
65
Lusail, Qatar
GE
2011
61
61
Aquapolo, Sao Paulo, Brazil
Koch Membrane Systems
2012
56
56
Footnote (2012)
Since this article was published, I've been informed that there's another GE plant located at Nizhnekamsk, Tatarstan in Russia which has an ADF of 50.4 MLD, for treating effluent from the Taneco oil refinery site. Unless the PDF is >25% higher than the ADF, it doesn't quite make the Top 20. However, it should be up and running by April 2012 and, by my reckoning, could then be the largest industrial effluent MBR in the world.

I've also had word of the status of some of the Econity Korean plants. A large projected plant − the Siheung & Ansan project (73 MLD) − has been cancelled, but the Songsan Green City project, Korea (84 MLD) has been secured, planned for 2015 start up. Also, GE's Busan City plant may have a total capacity of 100 MLD when complete, though my understanding is that this won't be for a few more years.
See the latest list of Largest plants worldwide
Comments
All comments are moderated and may be edited or deleted at any time. You must not post anything that is defamatory, illegal, offensive or which contravenes our privacy policy guidelines. Email addresses are only used for comments purposes. Contact info@thembrsite.com to remove or edit a comment.