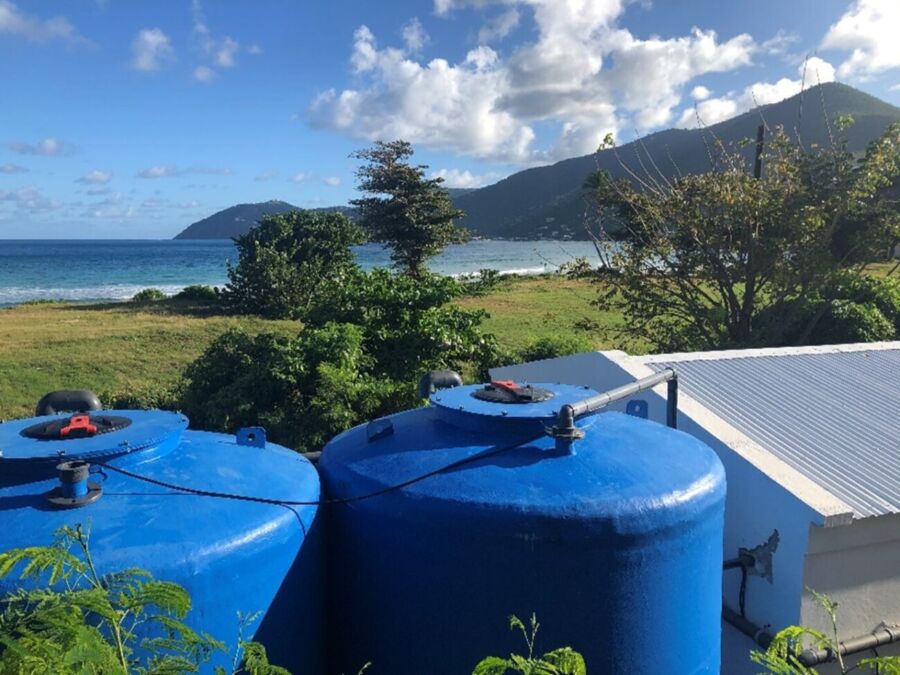 Supplied by:
Enereau Systems Group Inc.
Application:
Commercial facilities, Off-grid solutions, Package systems
Hollow Fibre (HF)
MBR membrane configuration |
Immersed
technology configuration
Membrane material:
Polymeric
Capacity range (MLD):
< 1.0
About Long Bay Hotel & Resort
Over a period of several months in 2018, Enereau worked with the client to develop and refine a range of concepts for a wastewater treatment plant that would fit into the footprint of the previous facility, support the property redevelopment goals and produce a continuous and reliable supply of up to 0.1 MLD of reuse-quality water for landscape applications.
Located less than 100m from the coast and amid an island-wide reconstruction effort, the Enereau team needed to incorporate project-specific design requirements including Low Energy, Longevity in a coastal environment and Modularity for future expansion. The existing basins from the previous Rotating Biological Contactor system were repurposed as equalization tankage. To save energy, vertical-silo BioReactor tanks, equipped with fine bubble aerators, were selected to optimize the oxygen transfer in the system and minimize the aeration power requirements.
The BioReactors and the MFM were prefabricated off-site to reduce on-site installation costs, with all piping inter-connections completed by the hotel's on-site maintenance team. To maximize longevity and minimize capital costs, a combination of Fiberglass Reinforced Plastic (FRP) and 316SS materials were used for all tankage and structural framing.
With such a compact and modular design, the entire system (BioReactors, Feed-forward tank, Membrane Filtration Module and all ancillary equipment) was shipped to site in two standard ISO containers and installed in less than two weeks. The new equipment was installed in a footprint of under 4m x 12m, allowing excess space in the originally designated area for future growth. A fully aerobic process with in-tank jet aeration, the system creates minimal sound and no odor, allowing it to be installed at the entrance of the site and blended into the landscaping.

Company summary
Head office in
Ridgeway ON, Canada
Operates in
Americas, Europe and Oceania
13
commissioned plants | Total installed capacity of
<4,000 m3/d (1 MGD)

About this page
This page was last updated on 09 July 2022
Disclaimer
Information on this page may have been supplied by third parties. You are reminded to contact any third parties to confirm information is accurate, up to date and complete before acting upon it. TheMBRSite.com accepts no liability for information provided by third parties, actions taken on the basis of this information or information held on third-party websites.