IFAT Munich 2016 − a report

Simon Judd
Simon Judd has over 30 years' post-doctorate experience in all aspects of water and wastewater treatment technology, both in academic and industrial R&D. He has (co-)authored six book titles and over 200 peer-reviewed publications in water and wastewater treatment.

As the largest water-wastewater-waste trade show globally, Munich's IFAT (30 May−3 June 2016) is certainly a sizeable affair. The Messe München venue, handily placed at the end of the U2 metro line, comprises 16 aircraft hanger-sized halls, with enough space for outdoor events (a five-a-side football tournament, perhaps) between each one. I can confirm it's a generously proportioned venue, having been forced to walk half its circumference, only afterwards being made aware of the shuttle bus.
I was there primarily to contribute to Berghof's 50th anniversary event, but also spent some time wandering around the main trade show with Claire and meeting others whose lives are also intimately entwined with the glamorous world of sewage.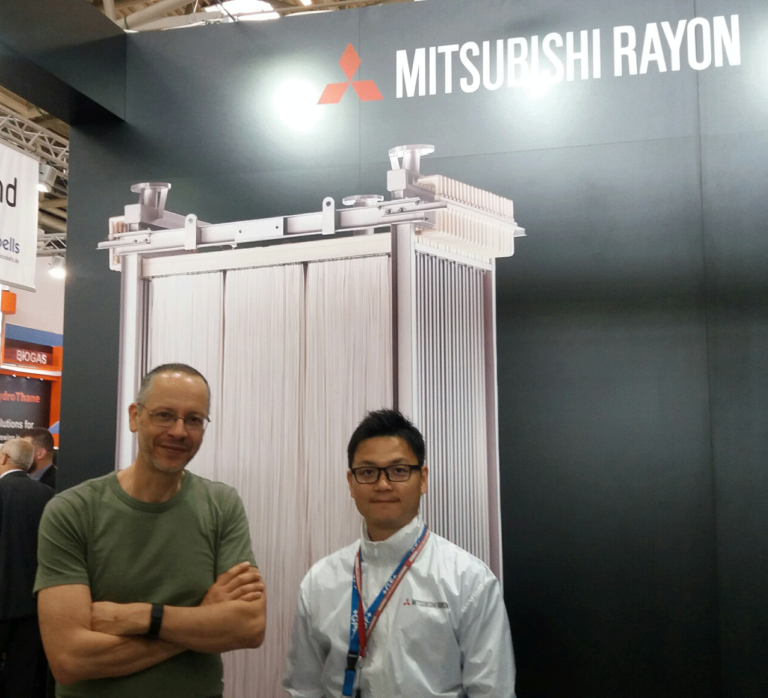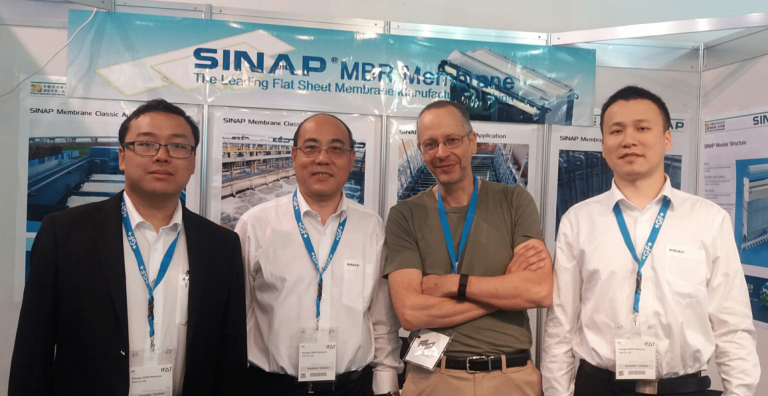 The Berghof event itself threw up some interesting points, particularly during the panel session. Under my uncertain stewardship as panel convenor, the discussion covered a range of topics, for example: the relative market value of desalination and kidney dialysis membranes compared with low-pressure (microfiltration and ultrafiltration) ones; the corresponding relative costs of these membranes (in terms of $/m2); the fate of copper from distillery effluents; the removal of micropollutants generally using MBRs, and governing legislation (or lack of it); membrane fouling and clogging, for both aerobic and anaerobic MBRs; and future trends.
As far as the latter is concerned, topics included (in no particular order) biomimetic membranes, ceramic membranes, anaerobic and/or zero-energy systems, and hybrid technologies. The hosts did a fine job of providing the appropriate facilities and, most critically, coffee and cake (the latter with corporate branding), with the audience posing some intriguing questions, and the panel impressing all with their wide-ranging knowledge and experience. Doubtless the 60-year anniversary event is already in the planning stages.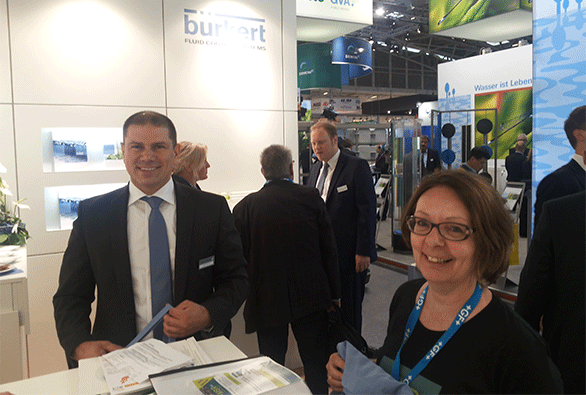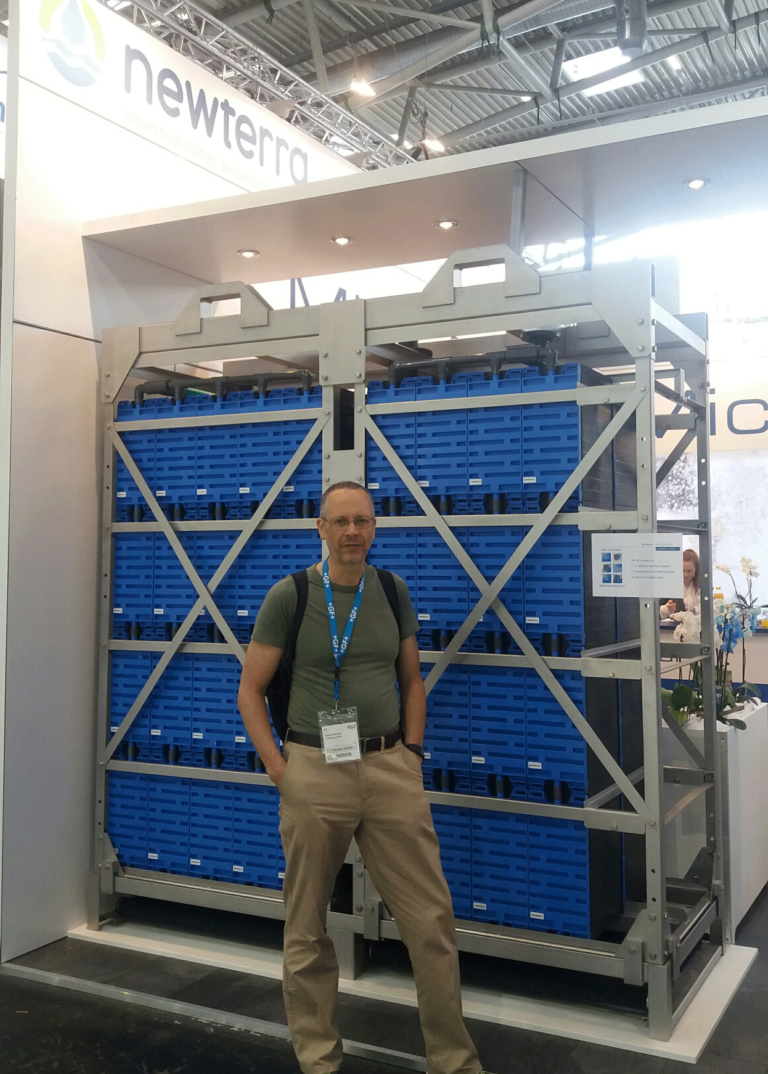 After the Innovation Day, Claire and myself spent an educative day-and-a-half meeting up with representatives from a large number of MBR membrane and technology providers: A3, ADI Systems, Alfa Laval, Berghof Membrane Technology, CUT Membrane Technology, Jäger, Evoqua, Freudenberg, GE Water & Process Systems, Grundfos BioBooster, Huber Technology, Koch Membrane Systems, Kubota, Likuid Nanotek, Martin Membrane Systems, Membrana, Memos, Microdyn Nadir, Mitsubishi Rayon, newterra, Pentair, Shanghai Sinap, Supratec, Toray, and Wehrle: apologies if I've missed anyone.
And, as is always the case at such events, there were welcome chance meetings with Cranfield University alumni from Water MSc courses of yesteryear. My, haven't they grown (beards, predominantly).
It always seems to me that the commercial aspects of MBR technology are rather more engaging than the scientific ones. Certainly, there are rather more installations for some of the suppliers than I'd appreciated (120 based on Alfa Laval's Hollow Sheet, for example, and over 3,600 Mitsubishi Rayon installations – mainly in East/South-East Asia). Clearly, business is pretty good, on the whole, in the world of MBRs – to the extent that there are still players entering the market (such as CUT, who already have at least one reference site for their multitube membrane module) and new product launches, including the visually impressive new rotating membrane module from Huber: a mighty beast.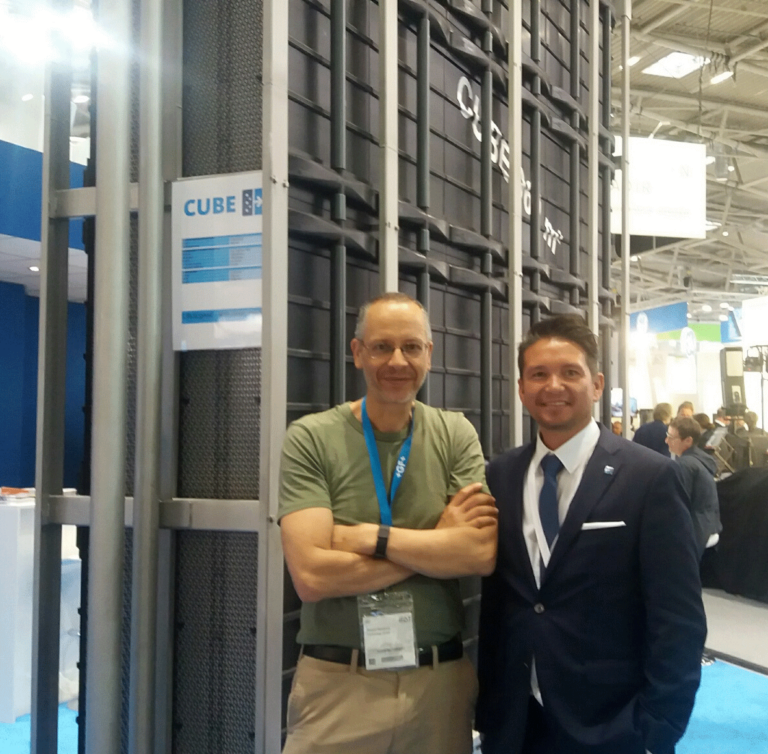 There were also quite a few examples of block membrane modules based on flat sheet composite membranes. These modules are smaller and stacked up to six high, depending on the design, compared to the classical single-/double-deck rigid panel design. But as far as marketing innovation is concerned, the prize must surely go to Martin Membrane Systems. This company ingeniously offered up German sausage with beer and, the piece de resistance, freshly prepared ice cream. Not being much of a drinker, I fell victim to over-indulgence on the ice cream front. Well, it would have been impolite to refuse.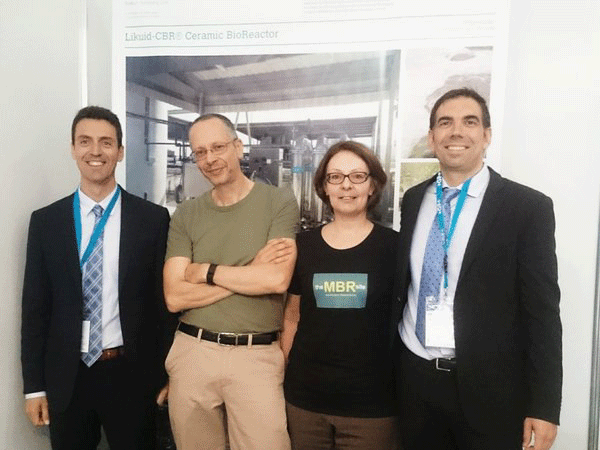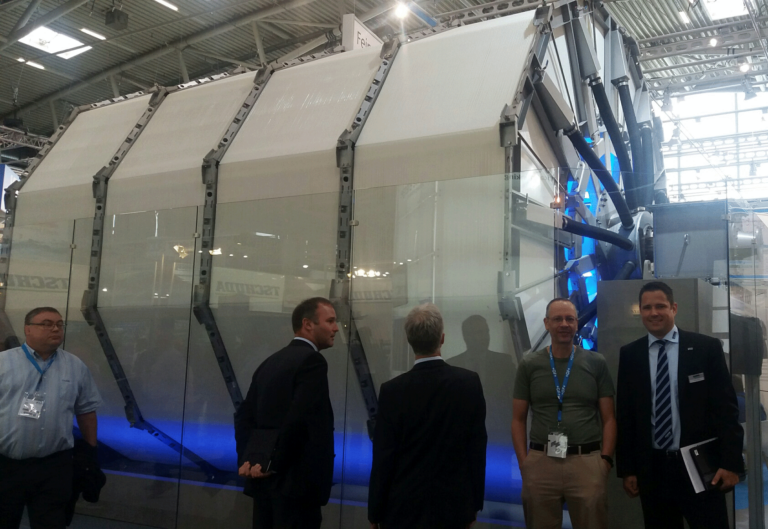 newsletterSignup is not templated