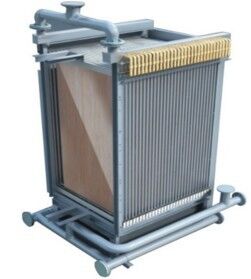 Supplied by:
Beijing Origin Water (BOW)
Hollow Fibre (HF)
MBR membrane configuration |
Polymeric
membrane material
About Origin Water MBRU
The Membrane-Bio-Reactor-Unit (MBRU) is the first large-scale MBRU of China, successfully invented by Origin Water with more than 50 patents. Based on integration system design, the standardized curtain membrane elements can be integrated in the unit to produce high quality reclaimed water.
Advantages
High quality permeate water: Satisfy standard first class A of GB 18918-2002, turbidity close to 0. (Pore size = 0.3 μm)
High strength: Tensile strength(≥ 200N)
High chemical stability: long chemical contact time
Low energy consumption: the advanced aeration design effectively prevents membrane fouling and reduced energy consumption
Optimized integration
Small footprint.
Application
Upgrade of conventional wastewater treatment plant
New municipal, domestic and industrial wastewater treatment
Water reclamation projects
Waste water treatment plant with less available land.
Hollow Fibre (HF)
MBR membrane configuration
Polymeric
membrane material | PVDF
Company summary
Head office in
Beijing, China
Operates in
Africa, Americas, Asia, Europe and Middle East
| Operates worldwide

About this page
This page was last updated on 19 June 2018
Disclaimer
Information on this page may have been supplied by third parties. You are reminded to contact any third parties to confirm information is accurate, up to date and complete before acting upon it. TheMBRSite.com accepts no liability for information provided by third parties, actions taken on the basis of this information or information held on third-party websites.