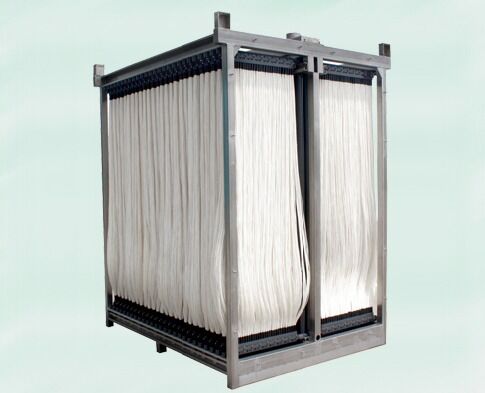 Hollow Fibre (HF)
MBR membrane configuration |
Polymeric
membrane material
About Gemini immersed UF module
Main features:
Micro-organism removing ability > log4
Permeate water SDI < 3 stably
Better mechanical properties (reinforced fibre inner lining)
High resistant for fibre broken at end cap part (patented protect technology)
Unique PVC membrane for sidestream UF module, get high performance with low cost
Quick connection technology for both immersed and sidestream module
Applications:
Municipal water supply
Industrial water purification
Municipal waste water treatment
Industrial waste water treatment
Landfill leachate advanced treatment
Reclaimed water reuse Pretreatment of RO system.
Suitable applications:
large-scale municipal
large-scale industrial.
Hollow Fibre (HF)
MBR membrane configuration
Polymeric
membrane material | Reinforced PVDF
Company summary
Head office in
Shenzhen, Guangdong, China
Operates in
Americas, Asia and Europe
Over 216
commissioned plants | Total installed capacity of
Over 500 MLD (sidestream & immersed)

Share this page
Last updated: 19 June 2018
Disclaimer:
Information on this page has been supplied by third parties. You are reminded to contact the third party concerned to confirm information is accurate, up to date and complete before acting upon it.