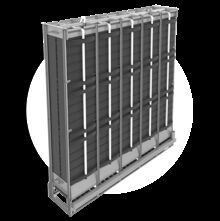 Supplied by:
MARTIN Membrane Systems
Flat Sheet (FS)
MBR membrane configuration |
Polymeric
membrane material
About LFM 20103 MBR filter
The use of high-grade plastics (PP) and stainless steel components (SS 304, SS 316 optional) guarantees the highest quality and a long service life. The modular design makes for flexibility when configuring other filter sizes.
Please ask for our detailed engineering catalogue and find out more about our entire range of products.
Suitable applications:
Large-scale municipal, Small-scale municipal, Large-scale industrial, Small-scale industrial
Municipal, Industry and Maritime.
Flat Sheet (FS)
MBR membrane configuration
Polymeric
membrane material | Organic polymer, PES
Pore size:
approx. 35 nm µm
Company summary
Head office in
Berlin, Germany
Operates in
Africa, Americas, Asia, Europe and Middle East
| Operates worldwide

Share this page
Last updated: 22 January 2021
Disclaimer:
Information on this page has been supplied by third parties. You are reminded to contact the third party concerned to confirm information is accurate, up to date and complete before acting upon it.