KUBOTA Submerged Membrane Unit
supplier page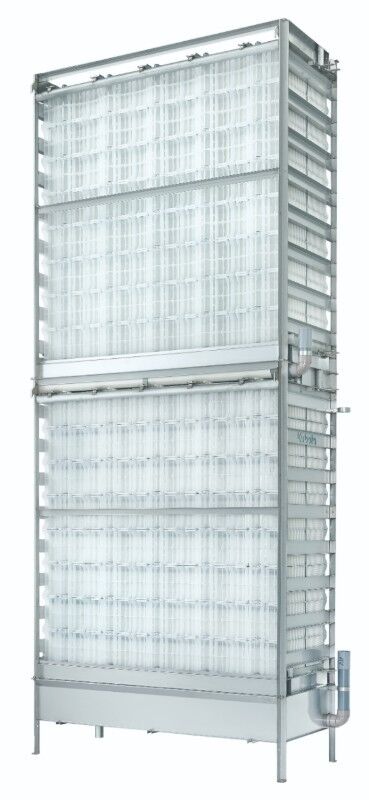 Supplied by:
KUBOTA Corporation
Flat Sheet (FS)
MBR membrane configuration |
Polymeric
membrane material
Module product series:
SP Series
RM/RW Series
FS/FK Series
About KUBOTA Submerged Membrane Unit
KUBOTA Submerged Membrane UnitTM can be used in a variety of applications, including municipal MBR and industrial MBR, regardless of the size of treatment plants, from small to large.

Kubota is the flat-type membrane pioneer. Kubota offers MBR systems that meet the needs of customers in each situation with a rich line-up of KUBOTA Submerged Membrane UnitTM and the design support based on the expertise of MBR processes which Kubota has acquired through products developments over 30 years.

Applications

Sewage. Industrial wastewater such as foods, beverages, automotive, chemicals, livestock, etc.

Water quality compliance. Water reuse including RO pre-treatment. Retrofit of wastewater treatment facilities. Wastewater treatment decentralization, etc.

Advantages of KUBOTA MBR System

The effluent quality complies with stringent regulations without the need of post-treatment.

Kubota's MBR permeate can be directly fed to the RO system for reuse so that the CAPEX & OPEX for the additional treatment will not be required.

In retrofit, the capacity of the WWTP can be increased up to 400% with cleaner permeate by using the existing aeration tank.

Overall water tank volumes will be reduced with design MLSS up to 15 g/l and Kubota's biological design which allows the integrated aeration and membrane tank where air scoring for membranes is counted for biological treatment. This saves the CAPEX & OPEX, and the saved spaces can be used for other purposes.
Flat Sheet (FS)
MBR membrane configuration
Polymeric
membrane material | Chlorinated Polyethylene
Pore size:
Maximum pore size: 0.4 µm. Average pore size: 0.2 µm
Module product series:
SP Series
RM/RW Series
FS/FK Series
Company summary
>6,500 plants
commissioned plants

About this page
This page was last updated on 28 July 2020
Disclaimer
Information on this page may have been supplied by third parties. You are reminded to contact any third parties to confirm information is accurate, up to date and complete before acting upon it. TheMBRSite.com accepts no liability for information provided by third parties, actions taken on the basis of this information or information held on third-party websites.