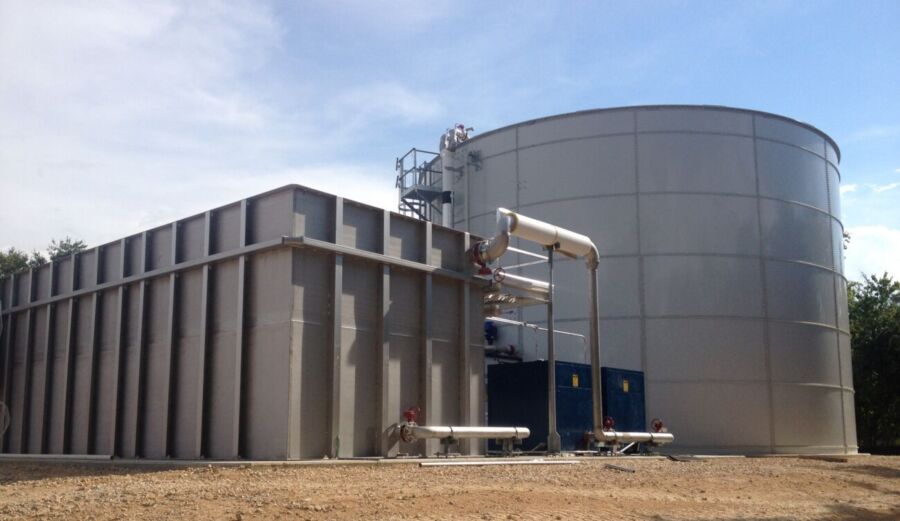 Location:
Memphis, Tennessee, USA
Supplied by:
ADI Systems, an Evoqua brand
Application:
Food, beverage and dairy
MBR technology/system:
ADI® MBR aerobic membrane bioreactor system
Flat Sheet (FS)
MBR membrane configuration |
Immersed
technology configuration
Membrane material:
Polymeric
Capacity range (MLD):
< 1.0
Owned by:
Monogram Food Solutions
About Monogram Food Solutions
Monogram Food Solutions LLC, headquartered in Memphis, Tennessee, USA, is a producer and distributor of packaged meat products, snacks, and appetizers.
Monogram's FDA-approved pet food manufacturing plant in Schulenburg, Texas, USA, makes meat-based pet treats that contain no artificial ingredients or filler. The pet treats are such high-quality that they are fit for human consumption. Monogram wanted a wastewater treatment system of the same superior calibre.
At the time, the plant was skimming oil before discharging its wastewater to a municipal treatment system − but that came at a price. Moreover, new production lines at the plant resulted in a significant increase in wastewater flow and load, which would exceed treatment capacity at the municipal plant.
ADI Systems was selected to design, construct, and commission an on-site wastewater treatment solution for Monogram's pet treat plant. The technology of choice was an ADI® membrane bioreactor (MBR), an aerobic technology that uses a submerged physical membrane barrier to provide the liquid/biosolids separation.
Company summary
Head office in
Canada, United States
Operates in
Africa, Americas, Asia, Europe and Middle East
| Operates worldwide

About this page
This page was last updated on 19 June 2018
Disclaimer
Information on this page may have been supplied by third parties. You are reminded to contact any third parties to confirm information is accurate, up to date and complete before acting upon it. TheMBRSite.com accepts no liability for information provided by third parties, actions taken on the basis of this information or information held on third-party websites.