The MBR Site – what measure success?

Simon Judd
Simon Judd has over 30 years' post-doctorate experience in all aspects of water and wastewater treatment technology, both in academic and industrial R&D. He has (co-)authored six book titles and over 200 peer-reviewed publications in water and wastewater treatment.

A few weeks ago, Claire and myself spent a few pleasant days ambling around the trade exhibitions at the IWA Congress in Tokyo and WEFTEC in New Orleans, chatting to MBR practitioners. This is never anything less than an education for me personally. It also gives Claire the opportunity to find out whether her significant efforts in developing and managing The MBR Site over the past eight years have borne fruit.
We didn't really know what to expect − whether people had even heard of us − so it was pleasantly surprising to find out that most people seemed to be aware of our work. So, a success, or so it would seem. But, really, how is success actually measured for a technical website like The MBR Site? Specifically, how can the levels of engagement and impact be assessed?
Well, excuse the indulgence, but let's delve into this a little further: a little self-appraisal is never a bad thing.
Engagement
In terms of engagement, many organisations have already taken advantage of the free directory listings on the website: there are currently 45 MBR technology suppliers listed, and 35 MBR membrane products, as well as 50 case studies in the MBR references directory. There is still some way to go in expanding the Ancillary Products directory (all entries welcome) but, following the IWA and WEFTEC exhibitions, many more companies have expressed an interest in being listed.

There is clearly much general interest in reference installations, so adding to the 50 case studies will always be a focus of attention. The fact that this directory is now searchable in terms of application, capacity, membrane configuration and geographical area makes it more accessible and, hopefully, useful.
We're also indebted to the increasing number of external contributors who have taken the time to produce feature articles for the website. In total, 36 in-depth technical features have been posted, as well as the largest plants listings, Sam Skinner's interactive installations map, and the articles based on the MBR surveys.
Lastly, the website attracted over 133,000 page views over the last year (Sept 17−August 18). This probably doesn't compete with larger, more general websites, but for a single-technology site is impressive.
So, taking account of the above, the responses to the MBR surveys, and other indicators such as the number of 'likes' of the announcements of the web articles on LinkedIn and elsewhere, the level of engagement has been consistently high. A tick in the box for engagement, then, but what about 'impact'?
Measuring impact
The traditional measure of the impact of a website is the Google search ranking, the algorithms for which being a closely guarded secret. You could also maybe add the number of advertisers at any one time. However, it's also interesting to drill down into the web statistics to reveal where the visitors come from and which parts of the web site are attracting their interest.
Web statistics
Our visitors are spread very broadly geographically − most of our visitors come from the US, India, the UK, China and Canada. So, it is a truly global reach.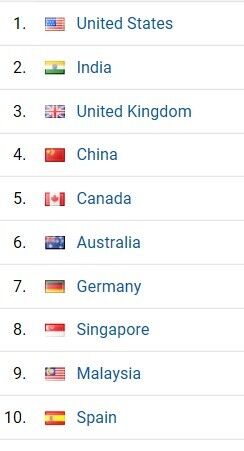 The 'What are MBRs?' pages are consistently amongst the top performing pages, which perhaps suggests that a large number of people new to the technology are doing their research (or just ripping sections of it for their thesis introductory section). The free directories are also top-performing pages, which means people are actively searching and using them. We actually receive many enquiries about equipment supply and point people to these directories.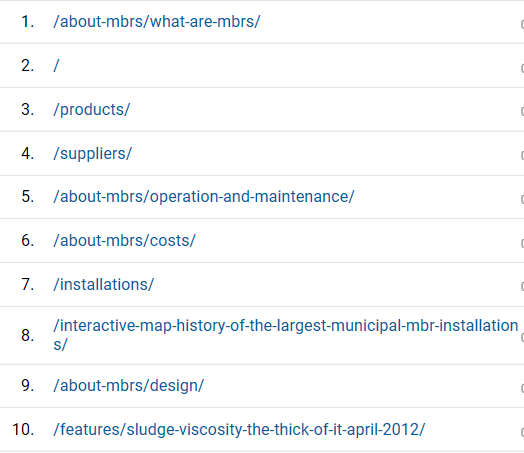 Google search ranking
Everyone knows that it's important to be on the first page of the Google listing. Ignoring sponsored adverts, The MBR Site occupies one of the top five places in the Google listings for the search term 'membrane bioreactor', and also the term 'MBR' coupled with commonly used terms such as 'technology', 'wastewater' or 'sewage', 'fouling', 'clogging', 'sludge', 'separation', and 'vendors' or 'suppliers'. Or, at least, it does when we've tried it. Due to the previously-mentioned enigmatic nature of the Google search engine it cannot be guaranteed that everyone will have the same search experience. It's nonetheless encouraging.
Number of advertisers
Like many other web sites, The MBR Site relies on the support of advertisers to keep going.
Many marketing managers measure success by the number of clicks their advert receives, directing traffic to the advertiser's website. This is important, obviously, but it's also a fairly simplistic measure for a niche website like The MBR Site. There's unlikely to be a direct relationship between the number of people who click on an advert and the number or value of the products bought for something like an MBR technology: it's not like buying a self-help e-book or a smart phone accessory. The value of adverts is in brand awareness and visibility. In that regard it's hard to do more than what's provided already, which is an advert on every single web page − all 400+ of them.
In terms of numbers, we are pleased to report that the number of advertisers booking space with us has been increasing regularly year-on-year, for which we are extremely grateful.
When all's said and done
Really though, when all's said and done, it is the anecdotal evidence which is perhaps the most persuasive of all.
Out of the 30-or-so companies we visited in Tokyo and New Orleans, all but two knew about the web site and generally offered very positive feedback. People told us that they send their potential suppliers, new recruits and end users to the web site for information, and others said they had bookmarked The MBR Site in their favourites lists.
So, by whatever measure, it's looking pretty good. But the web site continues to be very much a labour of love for us both. The activity has not catapulted us into the Forbes Rich List, but the advertising revenue at least allows us to continue to invest and improve the user experience, and help to keep our kids in food, shelter, video games and clean underwear.