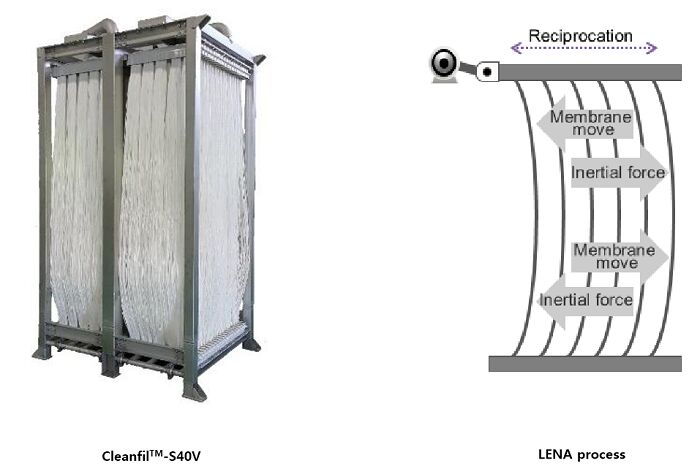 Hollow Fibre (HF)
MBR membrane configuration |
Polymeric
membrane material
Module product series:
Cleanfil-S40V
LENA (Low Energy No Aeration) system
About Cleanfil-S
CleanfilTM-S is a braid-reinforced PVDF hollow fibre membrane which:
has outstanding tensile and anti-peeling strength
is free of wetting agent, allowing easy storage & installation without requiring rinsing
has a high packing density, and so a small footprint
has a low air consumption.
CleanfilTM-S has been installed at more than 400 sites over 10 countries since 2006. The largest (max. capacity) reference is a 90,000 ㎥/day STP.
The new LENA (Low Energy No Aeration) technology for MBR systems requires no membrane blowers; horizontal reciprocation of the membrane cassettes using a motor and crank generates inertial force of the hollow fibre membranes.
The LENA system prevents sludge accumulation within the fibres more evenly than using an aerator in the membrane cassette, and reduces the energy consumption of conventional air scouring by around 75% compared to a conventional MBR system. It can also achieve a low TN value through increased denitrification efficiency.

Hollow Fibre (HF)
MBR membrane configuration
Polymeric
membrane material | PVDF
Packing density: Module membrane area per unit module floor area
489 m2/m2
at height
2.35 m
†
Module product series:
Cleanfil-S40V
LENA (Low Energy No Aeration) system
MBR Case studies and specifications
Company summary
Head office in
Seoul, Republic of Korea
Operates in
Worldwide, Americas, Asia, Middle East and Oceania
Over 450
commissioned plants | Total installed capacity of
Over 550 MLD

About this page
This page was last updated on 04 March 2019
Disclaimer
Information on this page may have been supplied by third parties. You are reminded to contact any third parties to confirm information is accurate, up to date and complete before acting upon it. TheMBRSite.com accepts no liability for information provided by third parties, actions taken on the basis of this information or information held on third-party websites.