HaYogev MABR wastewater treatment plant
view Fluence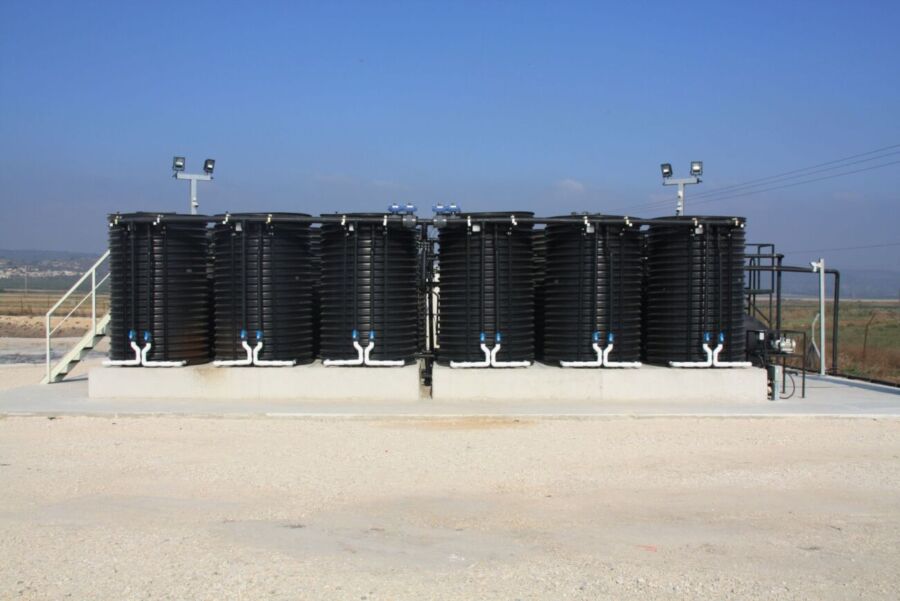 Location:
HaYogev, Jezreel Valley, Israel
Supplied by:
Fluence Corporation Ltd
MABR technology/system:
Fluence Membrane Aerated Biofilm Reactor (MABR)
Flat Sheet (FS)
MABR membrane configuration |
Immersed
technology configuration
Membrane material:
Polymeric
Capacity range (MLD):
< 1.0
Owned by:
Yuvalei HaEmek municipality
About HaYogev MABR wastewater treatment plant
Flat sheet MABR − decentralised wastewater treatment plant
125,000 litres per day
Commissioned/installed date: September 2016
The customer was looking for a localized wastewater treatment solution to replace the existing pond system, which faced difficulties in treating the wastewater due to high levels of nutrients. A new state-level regulation concerning reclaimed water required the wastewater treatment plant (WWTP) operator to reduce the nutrients in the effluent stream. The solution had to be odourless, quiet, have low power consumption and use the existing location.
The MABR-based wastewater treatment solution was chosen due to its extremely low energy consumption, low operating costs, high effluent quality and neighbourhood-friendly design.
Fluence Membrane Aerated Biofilm Reactor (MABR) technology is an innovative wastewater treatment solution ideal for decentralised municipal plants. The MABR WWT solution is modular and reduces energy usage by up to 90% compared to conventional treatment.
MABR is based on passive aeration, that is, the diffusion of oxygen through membranes. During the process, an aerobic nitrifying biofilm develops on the surface of the membranes, which enables simultaneous nitrification and denitrification (SND). This minimizes carbon deficiency and results in low total nitrogen in the effluent. This simple, low-maintenance technology produces high-quality water suitable for discharge or for use in irrigation or grey water.
Company summary
Head office in
New York, USA
Operates in
Americas, Asia, Europe and Middle East
| Operates in USA, Brazil, China, Israel, Italy, Argentina, UAE, Australia, Mexico, Colombia, France

About this page
This page was last updated on 05 May 2022
Disclaimer
Information on this page may have been supplied by third parties. You are reminded to contact any third parties to confirm information is accurate, up to date and complete before acting upon it. TheMBRSite.com accepts no liability for information provided by third parties, actions taken on the basis of this information or information held on third-party websites.