RockTenn Monterrey WWTP
view SFCU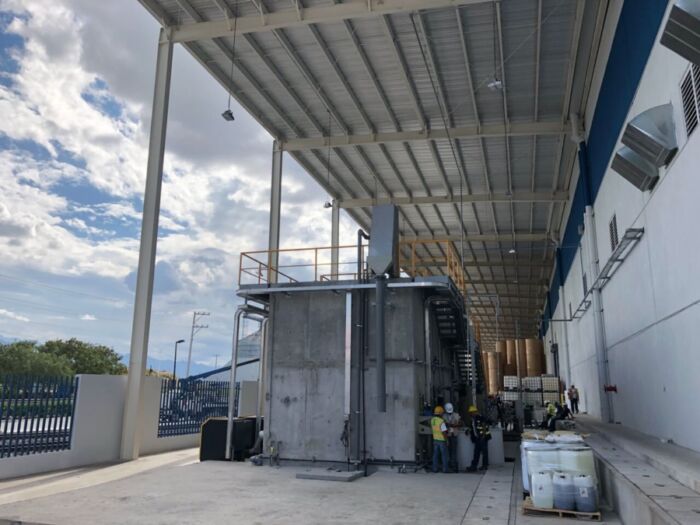 Location:
Monterrey, Mexico
Supplied by:
SFC Umwelttechnik GmbH
Application:
Bespoke solutions
MBR technology/system:
C-MEM (HDPE membrane material)
Hollow Fibre (HF)
MBR membrane configuration |
Immersed
technology configuration
Membrane material:
Polymeric
Capacity range (MLD):
< 1.0
Owned by:
RockTenn Monterrey / Grupo Gondi
About RockTenn Monterrey WWTP
Start-up of the C-MEM MBR plant Rocktenn Monterrey (Mexico) − treatment of wastewater from paper and cardboard production with downstream reverse osmosis for water recycling.
In the middle of June 2018, the C-MEM MBR plant in Rocktenn Monterrey subsidiary, which is owned by one of the leading Mexican paper and cardboard packaging producers, was started up.
The plant (2 modules, 128 cartridges) with downstream reverse osmosis treats 173 m³/d wastewater from paper and cardboard production. First, the wastewater is treated biologically with the C-MEM ultrafiltration technology and then cleaned to recycling quality by the downstreams RO, which reduces the water consumption drastically, as the paper and cardboard production process requires relatively much water.
173 m³/d
2 modules / 128 cartridges
start-up: 2018
View case study on company website
Company summary
Head office in
Salzburg, Austria
> 100
commissioned plants | Total installed capacity of
> 10,000 m³/day

Share this page
Last updated: 24 October 2018
Disclaimer:
Information on this page has been supplied by third parties. You are reminded to contact the third party concerned to confirm information is accurate, up to date and complete before acting upon it.