UNISOL MYTEX MBR Membrane Modules
supplier page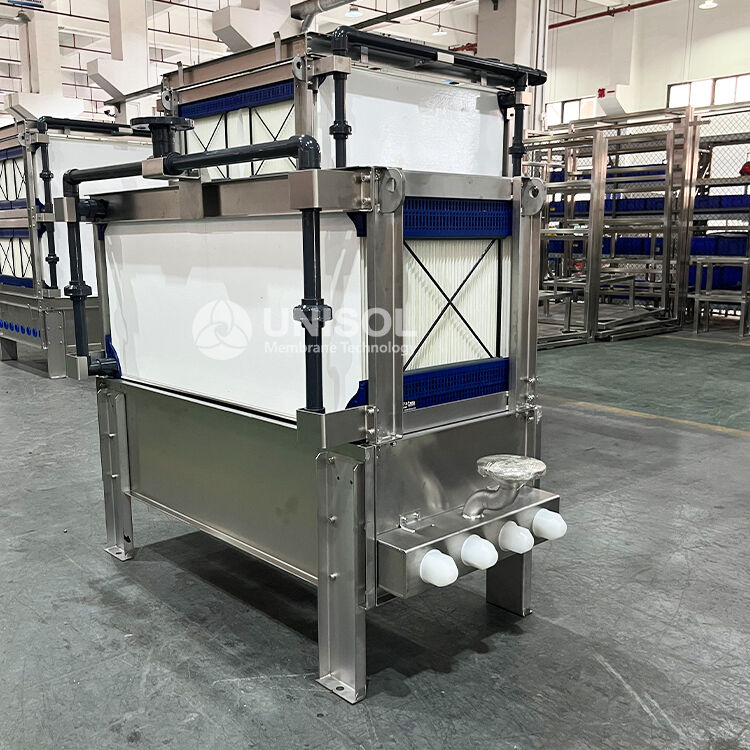 Flat Sheet (FS)
MBR membrane configuration |
Polymeric
membrane material
About UNISOL MYTEX MBR Membrane Modules
UNISOL MYTEX Membrane Modules combine the flat sheet technology with the design concept of stackable membrane modules. Membrane sheets are glued into self-supporting membrane blocks. These fully automatically produced membrane blocks are arranged side by side and stacked on top of each other in a module, allowing for a high flexibility in size for the MYTEX module.
The modular concept of the MYTEX.BLOCKs allows for an easy installation of the complete module with a lifting gear or the assembly of the module on site in case space is a restriction. The stackable MYTEX.BLOCKs are perfectly suitable for a simple expansion or the complete module replacement in an existing plant. Customer-specific sizes are available on request.
Flat Sheet (FS)
MBR membrane configuration
Polymeric
membrane material | UF PES
Packing density: Module membrane area per unit module floor area
52 m2/m2
at height
1.1 m
†
Packing density: Module membrane area per unit module volume 52 m2/m3†
MBR Case studies and specifications
Company summary
Head office in
Xiamen, China
Operates in
Worldwide
| Germany, India, Singapore, USA

About this page
This page was last updated on 05 August 2023
Disclaimer
Information on this page may have been supplied by third parties. You are reminded to contact any third parties to confirm information is accurate, up to date and complete before acting upon it. TheMBRSite.com accepts no liability for information provided by third parties, actions taken on the basis of this information or information held on third-party websites.