MBR operation & maintenance – fouling, clogging and cleaning
Fouling, clogging and cleaning
Permeability decline is caused by both membrane fouling and membrane channel clogging:
'fouling' refers to the coating of the membrane surface or the plugging of the membrane pores with dissolved, colloidal or fine solids. It is normally removed by the physical and chemical cleaning cycles.
'clogging' refers to the agglomeration of gross solids within or at the entrance to the membrane channels. Clogging within the channels is sometimes referred to as 'sludging'.
In municipal wastewater treatment, membranes may sometimes also become clogged with 'rags' (or 'braids') formed from aggregated filamentous matter (specifically textile fibres such as cotton wool) in the feedwater. This is usually referred to as 'ragging' or 'braiding'. Sludging and ragging are the main causes of unscheduled manual intervention in municipal MBRs.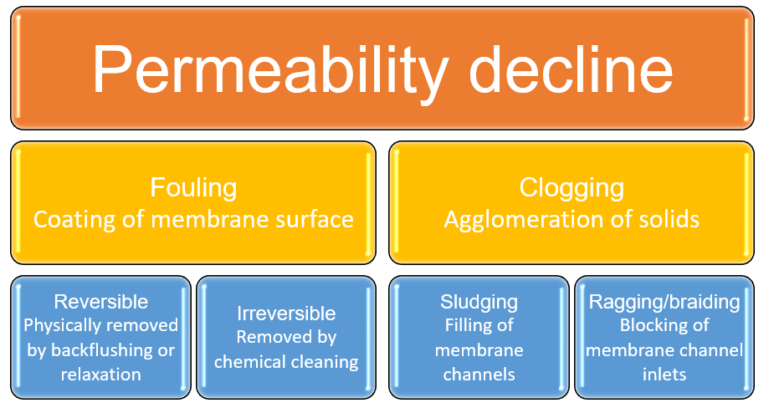 ​Membrane cleaning
Membrane cleaning can be by physical or chemical means, and both are employed in MBR operation and maintenance. Physical cleaning is normally achieved either by 'backflushing', i.e. reversing the flow back through the membrane, or 'relaxation', which is simply ceasing permeation while continuing to scour the membrane with air bubbles (for an immersed process) or the crossflow (for a sidestream one). These two techniques may be used in combination, and backflushing may be enhanced by combination with air.
Chemical cleaning usually employs sodium hypochlorite, an oxidative chemical, in combination with mineral or organic acids (most often citric acid). Cleaning is normally conducted without removing the membrane from the tank or skid ('cleaning in place' or CIP). If chemical cleaning is combined with backflushing this is normally referred to as a 'chemically-enhanced backflush' (CEB). CEBs are routinely carried out on a weekly/monthly basis for iHF MBRs, and such protocols are normally referred to as 'maintenance' cleans.

Physical cleaning removes gross solids attached to the membrane surface, generally termed 'reversible' or 'temporary' fouling, whereas chemical cleaning removes more tenacious material often termed 'irreversible' or 'permanent' fouling.
Physical cleaning is less onerous than chemical cleaning in that it is generally more rapid, demands no chemicals, generates no chemical waste, and is less likely to degrade the membrane. However, its effectiveness is limited, meaning that chemical cleaning is always required at some point. Since the original virgin membrane permeability is never recovered once a membrane is fouled through normal operation, there remains a residual resistance which can be defined as 'irrecoverable fouling' which may build up over a number of years and so ultimately determine membrane life.
Chemical cleaning employed specifically to recover permeability requires higher reagent concentrations and longer contact times than maintenance cleans. Such 'recovery cleaning' is not always effective − normally because the membrane has become clogged with sludge solids.
Neither the routine physical clean nor the chemical clean can be expected to counter clogging, which demands manual intervention (removal of the immersed membrane from the tanks) to remove the agglomerated material.