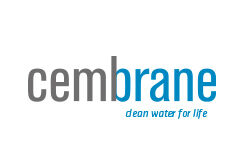 Based in
Denmark
| Operates worldwide
Offers
Flat Sheet (FS)
MBR membrane configuration
Proprietary MBR products and systems:
Cembrane-FCM
Cembrane-CFM-x
About Cembrane A/S
The Scandinavian company Cembrane A/S develops and produces a new generation ceramic flat sheet MF/UF membrane. The technology is able to operate in extreme waste waters with high temperature and a corrosive environment.
Cembrane was founded with the vision to move ceramic membranes from being a niche technology to a well-established technology for treating drinking and waste water. Cembrane therefore constantly strives to provide our customers with a durable and reliable membrane technology at competitive prices.
Areas of expertise:
MBR
Waste water reuse tertiary treatment
Oil & water removal
MBR technology & applications
Proprietary MBR products and systems:
Cembrane-FCM
Cembrane-CFM-x
Market applications:
Industrial small-scale, Industrial large-scale
Municipal small-scale, Residential developments
Commercial facilities, Shipboard applications
Cembrane has developed an innovative membrane and module design that enables one of the smallest footprints for any flat sheet technology as well a durability which provides limited maintenance and an operating life which is expected to exceed 10 years.
The durability is manifested in a low fouling tendency with long backwash frequencies and ability to withstand periodic MLSS loadings up to 30.000 ppm without clogging.
The membrane can always be regenerated due to the fact that it enables high pressure backwash and backpulse as well as a chemical resistance permitting cleaning with harsh chemicals. Additionally, the membrane has one of the highest flux rates for any membrane material, which gives an exceptionally low packing density and thereby limited tank footprint.
The design and membrane feature of the Cembrane technology provides a durability and thereby a long lifetime which is expected to exceed 10 years. The membrane requires relatively long frequencies between each backwash, no relaxation time and long periods between each CIP even at high flux rate. The membrane modules cannot be degraded by temperature, oil or chemicals.
Company summary
Operates in
Africa, Americas, Asia, Europe and Middle East
| Operates worldwide
Offers
Flat Sheet (FS)
MBR membrane configuration |
Immersed
technology configuration
Supplementary services offered by Cembrane:
Pilot testing
Start-up services and commissioning
Build Own Operate services
Operator training, Partnering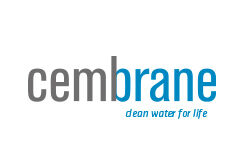 About this page
This page was last updated on 19 June 2018
Disclaimer
Information on this page may have been supplied by third parties. You are reminded to contact any third parties to confirm information is accurate, up to date and complete before acting upon it. TheMBRSite.com accepts no liability for information provided by third parties, actions taken on the basis of this information or information held on third-party websites.