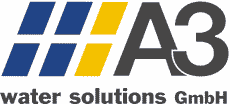 Based in
Saerbeck, Germany
| Operates worldwide
Offers
Flat Sheet (FS)
MBR membrane configuration
Proprietary MBR products and systems:
About A3 Water Solutions GmbH
A3 Water Solutions GmbH's main product lines are:
Treatment of digestate from biogas plants and bioethanol plants;
Construction of compact and mobile wastewater treatment plants and containerised WWTPs;
Construction of water treatment plants to produce technical waters as well as potable water.
Areas of expertise:
Membrane Bioreactor Systems (MBR)
Containerised MBR systems
Digestate treatment plants.
MBR technology & applications
Proprietary MBR products and systems:
Company summary
Head office in
Saerbeck, Germany
Operates in
Africa, Americas, Asia, Europe and Middle East
| Operates worldwide
Offers
Flat Sheet (FS)
MBR membrane configuration |
Immersed
technology configuration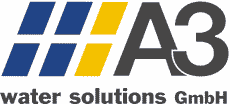 About this page
This page was last updated on 19 June 2018
Disclaimer
Information on this page may have been supplied by third parties. You are reminded to contact any third parties to confirm information is accurate, up to date and complete before acting upon it. TheMBRSite.com accepts no liability for information provided by third parties, actions taken on the basis of this information or information held on third-party websites.