MBR building blocks
As with a conventional biological wastewater treatment process, an MBR is a combination of tanks, pipework, pumps and blowers, with the addition of the membrane differentiating it from classical processes.
A simple design of a small MBR has been provided by Lo et al (2015). This is a general design for a municipal wastewater treatment based on an immersed membrane and an MLE (modified Ludzack−Ettinger) process. The specifications of the individual pieces of equipment (power, flow and/or pressure ratings) then depend on the application and assumptions made.
Most MBR installations must also include a control system for regulating flows and pressures.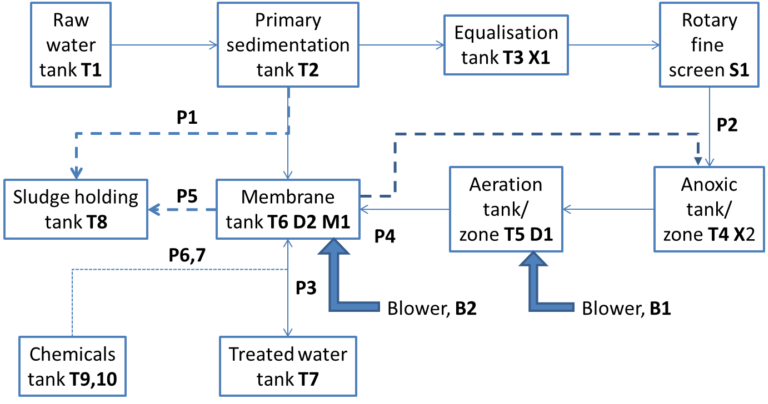 Table 1. MBR plant components and design basis

| Category | Component(s) | ID | Description/purpose |
| --- | --- | --- | --- |
| Tanks | Raw water | T1 | Storage tank for inlet wastewater |
| | Primary sedimentation | T2 | Removal of gross, settleable solids |
| | Equalisation (EQ) | T3 | Equalisation of flow |
| | Anoxic (Ax) | T4 | Denitrification |
| | Aeration (Ae) | T5 | Nitrification and biological oxidation |
| | Membrane | T6 | Membrane separation |
| | Treated water | T7 | Storage of permeate water |
| | Sludge | T8 | Storage of wasted sludge |
| | Chemicals storage | T9, T10 | |
| Pumps | Settled sludge transfer | P1 | Submerged, settled sludge to sludge storage tank |
| | Feed | P2 | EQ tank through rotary screen |
| | Permeate | P3 | Self-priming, membrane suction filtration |
| | Sludge return/discharge | P4 | Submerged, sludge recirculation and excess |
| | Sludge transfer | P5 | WAS to dewatering |
| | Chemicals | P6, P7 | Cleaning chemicals transfer to membrane, x2 |
| Blower | Process | B1 | Biological process aeration |
| | Membrane | B2 | Membrane scouring |
| Mixer | EQ tank mixer | X1 | High speed, equalisation tank |
| | Ax tank mixer | X2 | Low speed, anoxic tank |
| Screen | Rotary screen | S1 | Fine screening of feed |
| Membrane | Membrane module | M1 | FS membrane plus frame with built-in aerator |
| Diffusers | Fine bubble diffuser | D1 | Process aeration |
| | Coarse bubble diffuser | D2 | Membrane aeration |
Comments
All comments are moderated and may be edited or deleted at any time. You must not post anything that is defamatory, illegal, offensive or which contravenes our privacy policy guidelines. Email addresses are only used for comments purposes. Contact info@thembrsite.com to remove or edit a comment.