IFAS − integrated fixed-film activated sludge process
The integrated fixed-film activated sludge process represents one of the technologies, the other being the moving bed bioreactor (MBBR) process, employing mobile media which are added to the biological process tank(s). These technologies have been applied as biological treatment processes since the early 1990s, and are examples of fixed-film biological treatment processes.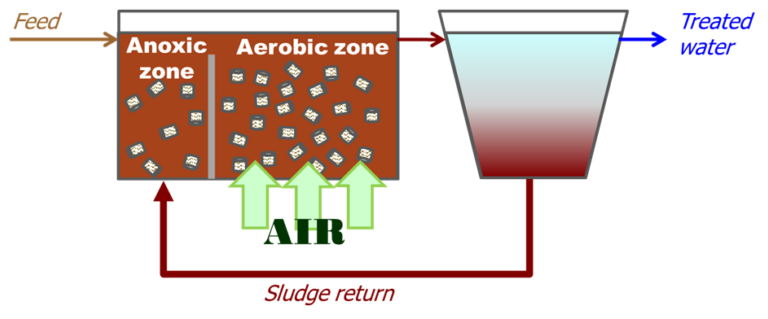 The key difference between the IFAS and the MBBR is that the IFAS has a sludge return line: it is an activated sludge process with media (or 'carriers') added to the process tank. Some IFAS technologies, such as the Cleartec® media offered by Ovivo in the US and Eliquo Hydrok in the UK, use a continuous textile as the media. The advantage of this media is that it is fixed in place in the process tank. Against this, the media is not as vigorously agitated as the conventional discrete carriers.
As with the MBBR, the key parameters affecting the process design and removal efficiency is the amount of biomass which can be immobilised per unit carrier volume, rather than the total surface area. This is because not all of the surface area is available for biofilm growth.